Graduate Dunja Babazadeh Gharemanlu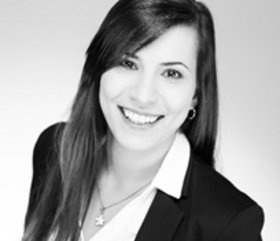 You entered the automotive industry as a Business Information Systems graduate, wasn't that very unusual?
"This may sound unusual at first glance, but if you look at the market, IT is increasingly represented in the car itself and thus plays an ever greater role in the automotive industry. Of course, all business processes are also IT-supported, if not completely automated by IT. As a Business Information Systems specialist, it is important to me to work at the interface between IT and the department. My studies helped me a lot to understand these two parties and to analyse and implement the requirements. During my studies I was able to look at many industries through internships and I realized that it is very important to me personally to work in an innovative industry. I don't think any other industry is currently undergoing such change as the automotive industry."
What is a typical day in your job and who do you work with?
"Currently I am working in project management for global projects. As in every project, not every day is the same. But it is typical that my tasks include a lot of communication, planning and organisation. Otherwise there are daily new surprises in project management, from which tasks arise. I work in a truly global team that spans several continents. This does not always make communication and organization easy. One of the biggest challenges for me was working in different time zones. On this basis, meetings must be planned and communicated with the individual contact persons, which is always a challenge. Through the use of IT, especially web conferences, it is very possible to work efficiently in a global team."
What skills from your studies will help you in this job today?
"Students often ask themselves what they need the teaching content for later in their careers. I have to say that my studies of Business Information Systems prepared me very well for my current job. The basic studies in the Bachelor's programme helped me above all to gain a basic understanding of logical and complex issues, to acquire an analytical way of thinking and to understand the communication problems between the departments and IT. The Master's programme was also helpful in applying these skills learned in projects and in working out complex issues in groups. This has prepared me well for my job today and has given me the basic tools and knowledge to follow my professional path. Of course it is always necessary to familiarize yourself with a new company and understand its processes quickly, in addition to the competences acquired during your studies."
What would you recommend to students starting to study Business Information Systems today?
"I think there is no better time to study Business Information Systems than now. The IT industry is booming and I believe that technological progress is faster than ever before. We are looking for IT specialists everywhere and especially those who have an understanding of IT and business and from my point of view Business Information Systems is exactly the right course of study. Besides the excellent professional opportunities, I also enjoyed my studies very much. In addition to Business Information Systems methods, you will also get to know a lot of new technologies, have the opportunity to familiarize yourself with innovative topics and also learn a lot about tools for your professional future. My recommendation to students is that they should definitely do internships in addition to their studies in order to understand what their future tasks might look like. Every student should take the time to do this and not take the pressure just to "get ready quickly"."