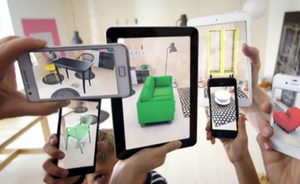 The continuous development of new classes of information technologies presents companies with continuous challenges in using these new technologies profitably. As a practice-oriented discipline, Business Information Systems is therefore always striving to analyze and improve the challenges of business practice in order to improve processes. In this context, research projects in which researchers from different disciplines and institutions exchange information in order to test the implementation possibilities together with companies and to generate new findings for research are indispensable.
The following overview of current and completed projects in our research area gives you a good insight into the range of topics on which we work with our research groups.
Current research projects
Name
Short description
Participants
Application of Augmented Reailty to improve enterprise architecture management.
Investigation of the influence of artificial intelligence on the strategic aspects of organizations.
The aim is to analyse the areas of application of artificial intelligence in decision making.
The aim is to develop a reference model with which the potential of IT projects can be exploited and efficient implementations can be carried out.
Development of a design theory that serves as a basis for the introduction of demand management in organizations.

For further participants, see project description

Investigation of internal and external strategic problems related to digital transformation.

Study on the factors of successful "Enterprise Architecture Management".

 

For further participants, see project description

Aims to explain how organizations can acquire sustainable skills in the area of "IT project and project portfolio management" and how future projects can be successfully designed.
 

Investigation of successful and failed initiatives for strategic IT benchmarking.

 

Expansion of the knowledge base in relation to design science research in the area of 'information systems'.

 

For further participants, see project description

Development of a multi-level modeling and development environment that allows to overcome the dichotomy of type and instance levels.
Joint project with the Information Systems Development Research Group at the Fernuniversität Hagen in which a modeling tool for teaching purposes was developed based on the metamodeling environment ADOxx.
The research project deals with price differentiation in online trading.
The research project deals with big data analyses in promotion management.
The research project deals with in-memory analytics and predictive analytics. As part of the cooperation with SAP SE, the SAP HANA Platform is used.
Completed research projects
| Name | Short description | Participants |
| --- | --- | --- |
| | Study that examines the problems and influencing factors in the implementation and enforcement of IT standards in companies. | For further participants, see project description |
| | Study on the implementation process of IT project management methods. | |
| | Study on the EAM framework "IT-Steuerung Bund" for its further development and integration with COBIT and ITIL. | |
| | Development of a method that supports the creation and maintenance of powerful and flexible e-business infrastructures. |   |
| | Development of a domain-specific modeling language that enables the creation of models of IT landscapes that can be integrated with models of business processes or business models in general. | |
| | Extension of existing MEMO languages with concepts from selected decision domains. | |
| | This project aims to create a comprehensive reference model for medium-sized banks that can be used for research and teaching. | |
| | Development of a reference framework for the evaluation of UML modeling tools and its application to tools offered on the market. | |
| | Prototypical development and testing of a system to support logistics in craft businesses. | |
| | Development of concepts to shape the hospital of the future; in cooperation with 24 partners from industry and science. | |
| | Comparison of research programmes and approaches of German 'Wirtschaftsinformatik' and 'Information Systems' from the Anglo-Saxon region. | |
| | Establishment of a subject-specific university network to support the exchange of students of Business Information Systems. | |
| | Design and implementation of a framework for the economic development of workflow-based applications on different platforms, especially mobile devices. | |
| | Analysis of the potential benefits of knowledge management in public institutions. | |
| | Study on the influence of dedicated methods and technologies to support project management that have long been used in industry. | |
| | Aims to develop a software tool that supports multi-perspective enterprise modeling with the MEMO method. | |
| | An initiative to develop collaborative reference models that can be used, adapted, copied and distributed by everyone. | |
| | In this project a generic approach is developed to optimize the information search process of users during software-intensive activities through context information. | |
| | This project deals with the development of concepts and prototypes for the context-specific generation and visualization of generic architectural views in the context of service-oriented architectures. | |
| | In this project, the worldwide introduction of an enterprise system architecture in a company is analyzed in order to explore possible improvement potentials in roll-out management. | |
| | This research project deals with the economic viability assessment of enterprise systems | |
| | Development of a workflow system to support the processing of credit applications; in cooperation with Sparkasse Essen. | |
| | Development of a knowledge-based performance indicator generator. | |
| | Study about alternative development platforms for a medium-sized system house. | |
| | Adaptation of five PL/1 application of Sparkasse Essen to meet new EU guidelines. | |
| | Study on electronic invoicing in cooperation with Deutsche Post AG. | |
| | Development of a data warehouse for a large mechanical engineering company. | |
| | Development of an expert system which estimates the expected length of stay of patients; in cooperation with the company health insurance Hoesch. | |
| | The project includes the development of a generic process model for the implementation of flexible company-wide IT architectures via corresponding migration, integration and refactoring projects. | |