Study Programme's Structure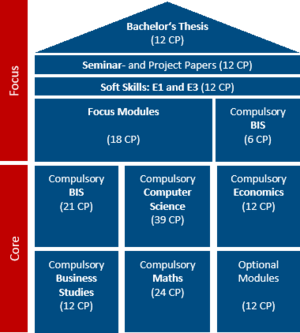 A total of 180 credit points, also known as European Credit Points (ECTS), must be earned in the Bachelor's programme.

120 of these are to be completed in the first 4 semesters of study (core part), in which the main focus is on teaching the basics of the various fields of study relevant to economics, computer science, mathematics and, of course, business information systems itself.

The further 60 credit points are to be earned in the final 2 semesters (focus part). This allows students to select those modules from the offered modules that correspond to their own interests. You have the possibility to choose one of the following three specialisations:
Modelling and implementation of business information systems
Entrepreneurship and IT Management
Technology and security of operational communication systems
Further details in the module handbook
Study plan
Depending on the start of the study, the distribution of modules is as follows:
Presentation via Zoom Summerterm 2020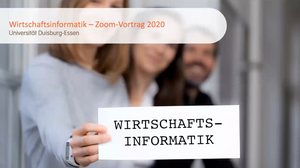 As an alternative to the information events we usually hold, we provide in the video attached a recording of a video conference. Watch the video to find out which opportunities a study of Business Information Systems can offer you, how the study programme is structured and what current students say about the study programme.
Video