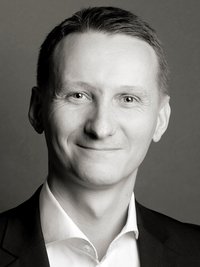 Academic Staff
Robert

Woroch

,
M. Sc.
Room:

R09 R02 H38

Phone:

Email:

Consultation Hour:

Mo 14:00-15:00; Anmeldung per Email

Address:

Universität Duisburg-Essen, Campus Essen
Fakultät für Wirtschaftswissenschaften
Lehrstuhl für Wirtschaftsinformatik und Softwaretechnik
Universitätsstr. 9
45141 Essen
Curriculum Vitae:
Work experience
August 2015 - February 2019: Head of Digital Media, con|energy agentur GmbH
July 2010 - July 2015: Senior Consultant, con|energy agentur GmbH
August 2008 - June 2010: Consultant, con|energy ag
February 2002 - July 2008: Project Manager Web Development, con|energy ag
January 2001 - January 2002: Software developer, Energieportal GmbH & Co. KG
June 2001 - March 2009: Managing partner, ARW Multimedia GbR
March 1999 - December 2000: Web developer, con|energy ag
Education
Degree Program in Information Systems (VAWi, M. Sc.), Universität Duisburg-Essen
Systems Engineering (B. Sc.), Universität Duisburg-Essen, specialization: Business Systems Engineering
Fields of Research:
Ecosystems, Value Networks Digital Business Models
Fintech, E-Commerce
Internet of Things (IoT)
Talks:
Woroch, Robert: Four Shades of Customer: How Value Flows in Fintech Ecosystems, International Conference on Information Systems (ICIS) 2022, 14.12.2022, Copenhagen, Denmark. AbstractDetails

The financial sector is undergoing a massive transformation, with new technology-driven players challenging established mechanisms and transforming the sector into a fast-moving market. With the gradual transition from a scale economy to a platform-driven network economy, enterprise networks are gaining strategic importance. Despite the growing interest in fintech's, research has so far lacked a conceptualization of value creation in fintech ecosystems. Therefore, this research paper aims to analyze key players, value creation activities, and value streams based on the analysis of the business models of payment services, personal financial management, robo-advisory, peer-to-peer lending, trading, and cryptocurrency. We present a holistic value network for the fintech ecosystem based on structured literature review and analysis of 171 fintech companies. We were able to show that fintech platform orchestrates multiple market sides and that customers take four distinct roles at the center of the ecosystem when using fintech services.

Woroch, Robert: Show me the Money: How to monetize data in data-driven business models?, 17th International Conference on Wirtschaftsinformatik (WI22), 22.02.2022, Nürnberg, Germany (Virtual). AbstractDetails

Increasing digitization and the associated tremendous usage of technology have led to data of unprecedented quantity, variety, and speed, which is generated, processed, and required in almost all areas of industry and life. The value creation and capturing from data presents companies with numerous challenges, as they must create or adapt appropriate structures and processes. As a link between corporate strategy and business processes, business models are a suitable instrument for meeting these challenges. However, few research has been conducted focusing on data-based monetization in the context of data-driven business models so far. Based on a systematic literature review the paper identifies five key components and 23 characteristics of data-driven business models having crucial influence on data-based value creation and value capturing and thus on monetization. The components represent key factors for achieving commercial benefits from data and serve as guidance for exploring and designing suitable data-driven business models.

Woroch, Robert: Understanding Value Creation in Digital Companies – A Taxonomy of IoT-enabled Business Models, 29th European Conference on Information Systems (ECIS 2021), 14.06.2021, A Virtual AIS Conference. AbstractDetails

The spread of the Internet of Things offers companies the potential to exert a disruptive influence on existing market structures and entire domains. The shift from product to service orientation and the integration of the customer as a value co-creator makes the identification and development of value-adding, IoT-based offerings a central challenge. As a link between strategy and business processes, business models are a suitable tool to meet this challenge. However, present business models lack of consideration of IoT specific characteristics. Against this background we provide a taxonomy for the description of IoT-based business models based on systematic literature research. Furthermore, the taxonomy is applied to 103 business models, demonstrating its usefulness. We also provide insights into the design of business models within two domains. The taxonomy provides a tool for investigating busi-ness models, especially how IoT can be incorporated into them and also a conceptual basis for future research.
Courses:
Advanced Programming Concepts (since winter term 19/20)
Paradigms and Concepts of Software Engineering (summer term 20) 
Supervision of Bachelor and Master Project (seit winter term 19/20)
Tutored Theses:
Design Principles for Data Ecosystems in the health sector (Bachelor Thesis Business Information Systems, in progress)
Shaping the Path Towards European Data Sovereignty: Developing Design Principles for International Data Spaces (Master Thesis Business Information Systems, 2023)
Conceptual modeling in the era of augmented reality: design and evaluation of a modeling tool for value modelling (Master Thesis Business Information Systems, 2022)
Value in the Age of Data Ecosystems: A Systematic Approach to Assessing Data Value (Bachelor Thesis Business Information Systems, 2022)
Business Process Management in the era of Internet of Things: A State-of-the-Art Analysis of potentials and challenges (Bachelor Thesis Business Information Systems, 2022)
Analysis of opportunities and challenges using IoMT to combat pandemics based on the example of Covid-19 (Bachelor Thesis Business Information Systems, 2022)
Analyse der Anwendbarkeit von Business Model Frameworks für digitale Plattformen im Smart City Kontext (Bachelor Thesis Business Information Systems, 2021)
Industry 4.0 – Conception of a Requirements Catalogue for Employees in the Smart Factory Regarding to Human-Machine Interaction (Bachelor Thesis Business Information Systems, 2021)
Conception and evaluation of the use of innovative technologies for the digital transformation of stationary retail trade (Bachelor Thesis Business Information Systems, 2020)
Other Duties:
Reviewer for Communications of the Association for Information Systems (CAIS)
Reviewer for Hawaii International Conference on System Sciences 2024 (HICSS-57)
Reviewer for 18th International Conference on
Wirtschaftsinformatik (WI) 2023 for the Track Business Models, Digital Transformation & Entrepreneurship
Reviewer for International Conference on Software Business (ICSOB) 2022
Reviewer for Americas Conference on Information Systems (AMCIS) 2021
Reviewer for International Conference on Software Business (ICSOB) 2021