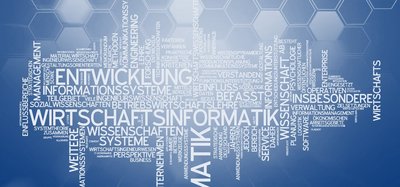 Vorlesung
Einführung in die Wirtschaftsinformatik (EWI)
Lecturer:

Prof. Dr. Stefan Eicker
Dr. Gero Strobel

Contact:

Term:

Winter Semester 2021/2022

Cycle:

Wintersemester

Time:

Blended-Learning mit virtueller Sprechstunde (erster Termin: 13.10 16:00-17:30)

Room:

Online per Zoom

Start:

13.10.2021

End:

02.02.2022

Language:

German

Moodle:

LSF:

Participants:

Linked Lectures:
Description:
Konstituierende Sitzung: Die erste Sitzung wird am Mittwoch, den 13. Oktober 2021, ab 16:00 Uhr virtuell stattfinden. Alle Informationen dazu finden Sie im Moodle-Raum.
Einschreibung: Den Einschreibeschlüssel für den Moodle-Raum finden Sie am Ende der Seite unter Materialien. Bitte sehen Sie davon ab, diesen per E-Mail bei uns abzufragen!
Die Veranstaltung "Einführung in die Wirtschaftsinformatik" richtet sich insbesondere an Bachelor-Studierende in den wirtschaftswissenschaftlichen Studiengängen. Das Ziel der Veranstaltung ist einen Gesamtüberblick über die verschiedenen Themenbereiche der Wirtschaftsinformatik, aber auch ihrer historisch entwickelten Basis und praktischen Einsatzmöglichkeiten im Sinne von möglichen beruflichen Tätigkeitsfeldern zu vermitteln. Informationssysteme und deren Einsatzpotentiale zur Lösung von betriebswirtschaftlichen Problem- und Fragestellungen im Unternehmen stehen hierbei im Fokus. Als Veranstaltung im Bachelor-Kernstudium konzipiert werden die Studierenden auch auf weitere Wirtschaftsinformatik-Fächer im Studium vorbereitet.
Die Veranstaltung besteht zu 50% aus Vorlesungseinheiten und zu 50% aus Übungseinheiten, die abhängig von den einzelnen Themen der Vorlesung als Fallstudie, Übung oder Selbsttest, etc. angeboten werden. Die Übungseinheiten werden zum Teil als Präsenzübung, zum Teil als Selbststudium durchgeführt. Die Übung ergänzt die Vorlesung indem durch die verschiedenen Aufgabentypen die Inhalte der Vorlesung wiederholt und vertieft werden. Darüber hinaus ist Ziel der Übung verschiedene Vorbereitungsmöglichkeiten und Wege der Informationsbeschaffung im Hinblick auf die abschließende Klausur zu vermitteln.
Als Erstsemester-Veranstaltung konzipiert werden keine Vorkenntnisse vorausgesetzt.
Learning Targets:
Die Studierenden
besitzen einen Überblick über die Disziplin Wirtschaftsinformatik (Historie, Themen, Methoden, Berufsbilder)
erlangen vertiefende Kenntnisse über ausgewählte Themenbereiche der Wirtschaftsinformatik
sind fähig, die ausgewählten Themenbereiche miteinander zu verknüpfen
sind fähig, ausgewählte Methoden der Wirtschaftsinformatik anzuwenden (am Beispiel der Modellierung)
sind fähig, Modelle der Wirtschaftsinformatik zu bewerten
haben Kenntnis über die aktuellen Herausforderungen und Ziele im Bereich der Wirtschaftsinformatik
können aktuelle Entwicklungen im Bereich der Wirtschaftsinformatik beurteilen.
Über die fachlichen Qualifikationsziele hinaus sind die Studierenden fähig:
selbstständig Aufgaben zu lösen und sich benötigtes Wissen selbstständig anzueignen
sich auf Universitätsklausuren vorzubereiten
Outline:
Es ist zu beachten, dass die Gliederung eine vorläufige Gliederung darstellt und gegebenenfalls aktualisiert wird.
Überblick über die Disziplin Wirtschaftsinformatik (Wer, Wie, Was, Womit, Warum)
Informationssysteme
Customer Relationship Management
Vertiefung Geschäftsprozesse (Management, Modellierung, Verbesserung, ARIS)
Grundlagen der Modellierung
Business IT Alignment
Vertiefung IT-Servicemanagement
Ausblick auf weitere Themen der Wirtschaftsinformatik
Es sind Gastvorträge geplant.
Literature:
Alle veranstaltungsbegleitenden Informationen und Dokumente werden im oben verlinkten Moodle-Kurs bereitgestellt.
Methods of Assessment:
Klausur
Formalities:
Zum Modul erfolgt eine modulbezogene Prüfung in der Gestalt einer abschließenden Klausur.
Material:
The course material is only available to a restricted user group. You are either not logged in or not in the usergroup.