With our publications we cover the most diverse research areas that arise in the field of man, task and technology. In addition to traditional Business Information Systems topics such as knowledge management and business process management, you will also find articles on current topics such as blended learning, cloud computing or smart grids. Use this overview to get an impression of the range and possibilities of research in Business Information Systems at the University of Duisburg-Essen.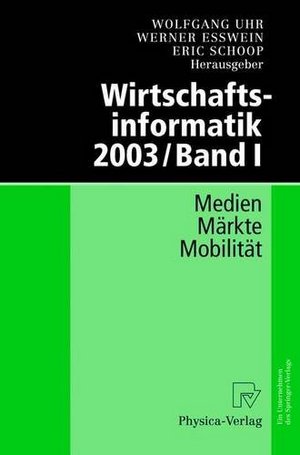 Type of Publication: Article in Collected Edition
Universal Component Trading - Trading in heterogenen Komponentenumgebungen
Author(s):

Eicker, Stefan; Schwichtenberg, Holger

Editor:

Uhr, W.; Esswein, W.; Schoop, E.

Title of Anthology:

Wirtschaftsinformatik 2003/Band I

pages:

303-324

Publisher:

Physica-Verlag

Location(s):

Heidelberg

Publication Date:

2003

Citation:
Abstract
Auf den unteren Ebenen des ISO/OSI-Protokoll-Stacks existieren zahlreiche Ansätze zur Lokalisierung von Diensten; die Ansätze finden auch verbreitet Anwendung in modernen Netzen. Trading, d.h. eine Lokalisierung von Diensten auf der Anwendungsebene, besitzt dagegen bisher kaum praktische Relevanz. Dies ist nicht zuletzt darauf zurückzuführen, dass der entsprechende ODPTrading-Standard und alle darauf aufbauenden Standards und Implementierungen gravierende Schwächen aufweisen; zu nennen sind u.a. die fehlende Unterstützung von Softwarekomponenten, die fehlende semantische Beschreibung von Diensten sowie Defizite bezüglich der Architektur des Traders. Im vorliegenden Beitrag wird mit dem Universal Component Trading (UComT) ein Konzept zur Vermittlung von Softwarekomponenten vorgestellt, die aus verschiedenen Komponentenmodellen stammen können. Im Gegensatz zum ODP-Trading-Standard unterstützt das UComT-Konzept auch unterschiedliche Handelseinheiten, unterschiedliche Beschreibungs- und Suchsprachen sowie unterschiedliche Zugriffsprotokolle innerhalb eines Traders. Dies wurde insbesondere durch eine modulare Trader-Architektur und durch Einsatz der Standard-Beschreibungssprache XML erreicht.