With our publications we cover the most diverse research areas that arise in the field of man, task and technology. In addition to traditional Business Information Systems topics such as knowledge management and business process management, you will also find articles on current topics such as blended learning, cloud computing or smart grids. Use this overview to get an impression of the range and possibilities of research in Business Information Systems at the University of Duisburg-Essen.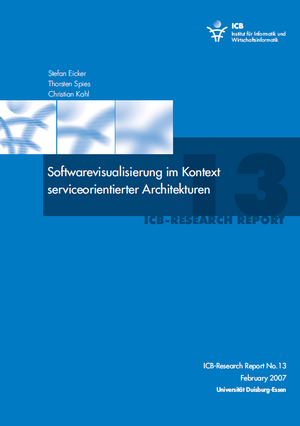 Type of Publication: Research report
Softwarevisualisierung im Kontext serviceorientierter Architekturen
Author(s):

Eicker, Stefan; Spies, Thorsten; Kahl, Christian

Number of Report or Contribution:

ICB Research Report No 13

Publication Date:

2007

ISSN:

1860-2770

Language:

deutsch

Keywords:

Softwarevisualisierung, Serviceorientierte Architekturen, SOA, Visualisierung

Fulltext:

Citation:
Abstract
Die Softwarevisualisierung trägt dazu bei, die Entwicklung und Wartung von Softwaresystemen und insbesondere die Beherrschung der Systemkomplexität zu erleichtern. Der vorliegende Beitrag beschäftigt sich mit Visualisierungsansätzen im Kontext serviceorientierter Architekturen. Die Architekturen erlauben es, flexible Systemlandschaften zu schaffen, unterliegen jedoch einem stark dynamischen Umfeld. Deshalb bildet ein ausgeprägtes Verständnis sowohl aus technologischer als auch aus fachlicher Sicht einen wesentlichen Erfolgsfaktor bei der Einführung der Systeme. Im Folgenden wird dazu die Konzeption dreidimensionaler Sichten und die Entwicklung einer Visualisierungspipeline zur Erzeugung dynamischer Views vorgestellt. Die Ansätze bieten den unterschiedlichen Stakeholdern jeweils die Möglichkeit, die für sie relevanten Informationen abzurufen und in den Gesamtkontext einzuordnen.