With our publications we cover the most diverse research areas that arise in the field of man, task and technology. In addition to traditional Business Information Systems topics such as knowledge management and business process management, you will also find articles on current topics such as blended learning, cloud computing or smart grids. Use this overview to get an impression of the range and possibilities of research in Business Information Systems at the University of Duisburg-Essen.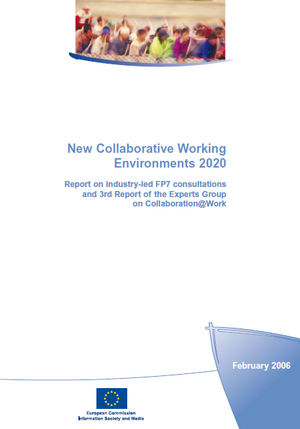 Type of Publication: Research report
New Collaborative Working Environments 2020 - Report on industry-led FP7 consultations and 3rd Report of the Expert Group on Collaboratopn@Work
Author(s):

Stewing, Franz-Josef; Heimann, Erik

Location(s):

Büssel

Publication Date:

2006

Citation:
Abstract
In January and February 2006, New Working Environments Unit of the Directorate General information Society and Media of the European commission organised two workshops where recognised experts in the field discussed the most outstanding research themes that will affect the R&D agenda in the Collaborative Environments (CE) area in FP7 (2007-2013). The workshop in January gathered members of the Collaboration@work Experts Group representing academia and research departments within IT industry. The workshop in February got together mainly IT industry representatives directly related to the business of their companies and not only to research, with the support of 5 representatives of academia. This publication encompass the findings coming out of both workshops summarising the vision, characteristics and research challenges brought forward by the experts. The first section of this document is dedicated to the IT industry perspectives on CE supporting Business and Industry. The second section includes the vision and challenges for Collaborative Environments 2020 drawn by the Collaboration@work Experts Group.