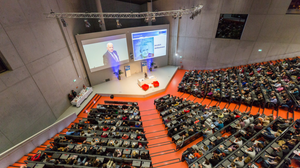 Below you will find an overview of the courses offered in our subject area in the current semester. You can use the free text search to restrict the list according to bachelor's or master's degree courses and other criteria. For more detailed information, please also refer to the websites of seminar papers, projects, and final theses.
Courses of previous semesters:
Kolloquium
Kolloquium (B.Sc./M.Sc./Diplom)
Lecturer:

Prof. Dr. Ulrich Frank
Dr. Monika Kaczmarek-Heß
Dr. Sybren De Kinderen
Mario Nolte, M. Sc.

Contact:

Term:

Summer Semester 2021

Cycle:

jedes Semester

Time:

Mi, 11:45

Room:

R09 R04 H19

Language:

German/English

Moodle:
Description:
Gemeinsames Forschungsseminar aller Studierenden, die ihre Abschlussarbeit (Bachelor-, Master- oder Diplomarbeit) am Lehrstuhl für Unternehmensmodellierung abfassen.

Darüber hinaus sind alle Teilnehmer/-innen, die noch nicht daran teilgenommen haben, dazu verpflichtet, an der Einführung in wissenschaftliches Arbeiten teilzunehmen. (Weitere Informationen hierzu folgen)

Ziel der Veranstaltung ist es, denjenigen Studierenden, die ihre Abschlussarbeit am Lehrstuhl abfassen, Unterstützung bei der Durchführung ihres Projektes zu geben. Dies gilt für die inhaltlichen, strukturellen und formalen Aspekte der Arbeiten ebenso wie für das zugehörige Selbst- und Zeitmanagement.

Im Rahmen des Kolloquiums wird den Teilnehmern/-innen zu Beginn Generelles zum Erstellen einer wissenschaftlichen Arbeit erläutert. In den folgenden Sitzungen präsentieren die Teilnehmer jeweils ihr Projekt. Die verfügbare Zeit sollte sinnvoll in einen Vortrag mit anschließender Möglichkeit zur Diskussion eingeteilt werden. Ziel des Vortrags ist es, den anderen Teilnehmern/-innen das Ziel und die Forschungsmethode zu vermitteln. Überdies können auch aktuelle Fragestellungen oder Probleme behandelt werden. Die anschließende Diskussion soll dem präsentierenden Studierenden eine Möglichkeit für Feedback bieten. Die Zuhörer sind dazu aufgefordert, das Vorhaben kritisch zu kommentieren. Neben diesem festen Programm wird es ausreichend Zeit geben, Probleme zu diskutieren und Anregungen für die Arbeit jedes Einzelnen zu vermitteln.

Im Laufe der Veranstaltung hält jeder Teilnehmer/-in wenigstens einen Vortrag. Die Teilnahme an der Veranstaltung ist für alle Studierenden, die ihre Abschlussarbeit am Lehrstuhl für Wirtschaftsinformatik und Unternehmensmodellierung (Prof. Dr. Ulrich Frank) schreiben, verpflichtend!