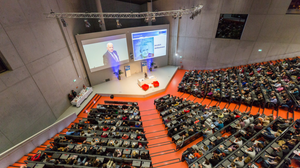 Below you will find an overview of the courses offered in our subject area in the current semester. You can use the free text search to restrict the list according to bachelor's or master's degree courses and other criteria. For more detailed information, please also refer to the websites of seminar papers, projects, and final theses.
Courses of previous semesters:
Tutorial
Strategic Planning of IS (SPIS)
Lecturer:

Prof. Dr. Frederik Ahlemann
Marvin Jagals, M.Sc.
Helge Alsdorf, M.Sc.

Contact:

Term:

Summer Semester 2020

Cycle:

Sommersemester

Time:

Di 14:00-16:00

Room:

Digital

Start:

21.04.2020

End:

14.07.2020

Language:

English

Moodle:

LSF:

Participants:
Description:
Important
To get access to the course, please write an E-Mail to Helge Schmermbeck or Marvin Jagals. Please indicate your full name and your matriculation number. After that, you will be enrolled manually to the moodle course.
Content
The tutorial will extend and deepen the contents of the lecture 'Strategic Planning of IS'. The students are given the opportunity to broaden their knowledge and practical skills of problem solving with regard to the use and management of IT in strategic settings. The students will therefore be introduced to case studies from practice and be asked to develop solutions for the problems described in these.
Learning Targets:
The students will be able to
conduct a thorough analysis of IT/IS systems based on given criteria,analyze and present management challenges based on given business cases,
define measures in order to determine the success of IT/IS systems,
apply methods related to the strategic planning of IS,
design processes, organizational structures, and governance systems required to plan and steer IT organizations and their planning processes,
design solutions for fundamental management problems related to the strategic planning of IS, and
present these solutions convincingly.
Outline:
The tutorial covers the same contents as the lectures, although the case studies might also touch on general management issues.
Methods of Assessment:
The students will receive a case study covering the course contents. Based on the case study, groups of students have to draft a management proposal.
Formalities:
Successful attendance of the tutorial is required to participate in the course exam. The results of both components make up the final score (50% / 50%).