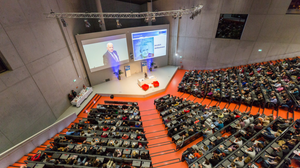 Below you will find an overview of the courses offered in our subject area in the current semester. You can use the free text search to restrict the list according to bachelor's or master's degree courses and other criteria. For more detailed information, please also refer to the websites of seminar papers, projects, and final theses.
Courses of previous semesters:
Seminare
Seminare Bachelor/Master
Contact:

Term:

Summer Semester 2020

Cycle:

jedes Semester

Language:

German

Participants:
Description:
Auswirkungen des Corona-Virus auf Betrieb und Veranstaltungen des IIS-Lehrstuhls
Die Lehrveranstaltungen des folgenden Sommersemesters 2020 werden in digitaler Form durchgeführt. Über die entsprechenden Modi werden Sie ebenfalls in unseren Moodle-Kursen informiert. Die Zugänge zu den Moodle-Kursen werden Anfang des Semesters auf unserer Webseite veröffentlicht.
Bitte beachten Sie die Informationen auf der zentralen WISEM-Webseite! Dort sind alle Fristen und Termine aufgelistet.
Methods of Assessment:
Schriftliche Ausarbeitung und Präsentation.