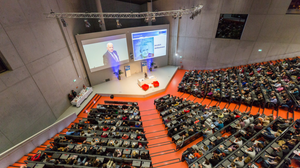 Below you will find an overview of the courses offered in our subject area in the current semester. You can use the free text search to restrict the list according to bachelor's or master's degree courses and other criteria. For more detailed information, please also refer to the websites of seminar papers, projects, and final theses.
Courses of previous semesters:
Seminar
Seminar Wirtschaftsinformatik und Softwaretechnik (SEM)
Lecturer:

Tobias Brogt, M. Sc.
Dipl.-Wirt.-Inf. J. Peter M. Schuler
Gero Strobel, M. Sc.

Contact:

Term:

Summer Semester 2020

Cycle:

jedes Semester

Language:

German/English

Moodle:

Participants:
Description:
Themengebiete und Aufgabenstellungen der Seminare entstammen typischerweise den Forschungs- und Lehrthemen aus dem Bereich Wirtschaftsinformatik und Softwaretechnik und werden jedes Semester neu zusammengestellt, um aktuelle Entwicklungen zu berücksichtigen.
Learning Targets:
Die Studierenden können sich eigenständig in ein aktuelles Themengebiet der Wirtschaftsinformatik einarbeiten, die aus der Sicht der Wirtschaftsinformatik relevanten Aspekte identifizieren und die Ergebnisse entsprechend den Anforderungen des wissenschaftlichen Arbeitens differenziert dokumentieren und reflektiert diskutieren. Sie sind in der Lage, die Essenz der schriftlichen Ausarbeitung im Sinne der Wissenspräsentation im Rahmen einer abschließenden Präsentation aufzubereiten, vor einem Publikum vorzutragen und sich in den Diskurs mit anderen Seminarteilnehmern einzubringen.
Literature:
Eine themenspezifische Literaturrecherche ist i.d.R. Aufgabe der Seminarteilnehmer.
Methods of Assessment:
Schriftliche Ausarbeitung und Präsentation
Formalities:
Alle weiteren Informationen finden Sie auf der zentralen Wirtschaftsinformatik-Seite unter Seminararbeiten. Beachten Sie dort insbesondere die Termine und Fristen, um sich für ein Seminarthema zu bewerben.
In den vergangenen Semestern bestand eine vergleichsweise hohe Nachfrage nach den Themenangeboten unseres Lehrstuhls (bis zu 6 Bewerbungen auf 1 Seminarplatz). Planen und bewerben Sie sich entsprechend, wenn Ihr Studienverlauf von einem Seminarangebot im aktuellen Semester abhängt.