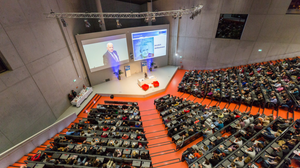 Below you will find an overview of the courses offered in our subject area in the current semester. You can use the free text search to restrict the list according to bachelor's or master's degree courses and other criteria. For more detailed information, please also refer to the websites of seminar papers, projects, and final theses.
Courses of previous semesters:
Vorlesung
Paradigmen und Konzepte der Softwareentwicklung (PKS)
Lecturer:

Prof. Dr. Stefan Eicker
Robert Woroch, M. Sc.

Contact:

Term:

Summer Semester 2020

Cycle:

Sommersemester

Time:

Online-Learning mit virtueller Sprechstunde (29.04 16:00-17:00; weitere Termine nach Bedarf)

Room:

Online über Moodle

Start:

22.04.2020

End:

08.07.2020

Language:

German

Moodle:

LSF:

Participants:
Description:
Die Veranstaltung wird in diesem Semester als Online-Learning-Veranstaltung über Moodle angeboten, siehe Abschnitt Formalia.
Die Vorlesung wiederholt zunächst grundlegende Methoden und Konzepte aus den Bereichen Programmierung, Modellierung und des Systems Engineering. Aufbauend hierauf werden komplexere Ansätze aus dem Themenfeld der Softwareentwicklung wie etwas Architekturmuster oder auch Software-Pattern näher betrachtet.
Neben einer rein technologieorientierten Sichtweise werden auch unterschiedliche Vorgehensmodelle wie etwa RUP, Extreme Programming und Test-Driven Development vorgestellt und bewertet. Über diese Themen hinaus erfolgt die Auseinandersetzung mit weiteren praxisrelevanten Themenfeldern wie etwa Software-Produktmanagements oder auch Quellcodeverwaltung inklusive Konfigurationsmanagement und Dokumentation.
Learning Targets:
Die Studierenden
sind in der Lage, Softwareprojekte sowohl zu planen, als auch durchzuführen
können die Konzepte des Software-Konfigurationsmanagements erläutern und anwenden
haben die Fähigkeit, unterschiedliche Aspekte der Qualitätssicherung von Softwareanwendungen wiederzugeben und zu bewerten
kennen die wesentlichen Aspekte der Software-Ergonomie
Outline:
Objektorientierte Programmierung
Unified Modeling Language

Vorstellung der verschiedenen Diagrammtypen
Systemanalyse und Systemrealisierung mit der UML

Softwarearchitektur

Architektur-Entwicklung und -Dokumentation
Prototyping

Service-Oriented Architecture

Architekturebenen
Service Engineeing

Vorgehensmodelle

Plangesteuerte VM
Agile VM

Architekturmuster

u.a. REST und Microservices

Entwurfsmuster
Konfigurationsmanagement

Versionsmanagement
Änderungsmanagement
Buildmanagement
Releasemanagement

Technical Debt
Software-Ergonomie
Softwarequalität

Verbesserung der Prozessqualität und CMMI-DEV
Testen im Softwarelebenszyklus
Test-Driven Developement
Literature:
ACM: Software Engineering Code of Ethics and Professional Practice; 1999; www.acm.org/serving/se/code.htm
Balzert, H.: Lehrbuch der Softwaretechnik, Spektrum, 1998
Berlack, H.R.: Software Configuration Management, Wiley 1992
Bundesrepublik Deutschland: V-Modell XT, 2004
Capability Maturity Model® Integration Version 1.1 (CMMI-SE/SW/IPPD/SS, V1.1), Staged Representation; 2002; Carnegie Mellon University www.sei.cmu.edu/cmmi/cmmi.html
Hailpern, B.; Santhanam, P.: "Software debugging, testing, and verification"; IBM Systems Journal, Vol. 41, No. 1, 2002
IEEE: Guide to the Software Engineering Body of Knowledge (SWEBOK®, Version 2004), www.swebok.org
Kneuper, Ralf: CMMI - Verbesserung von Softwareprozessen mit Capability Maturity Model Integration; 2003; dpunkt.verlag
Myers, G.J.: Software Reliability, John Wiley & Sons, Inc., 1976
Pressman, R.S.: Software Engineering - A Practitioner's Approach, 6th Edition, McGraw-Hill, 2005
Sommerville, Ian: Software Engineering 10; 2018; Pearson Education Limited
Methods of Assessment:
Klausur (6 CP)
Formalities:
Die Veranstaltung wird zu 50 % als Vorlesung und zu 50 % als Selbststudium angeboten:
Die Vorlesung findet (als Alternative zu einer Präsenzveranstaltung) in Form einer Online-Learning-Veranstaltung statt. Hierzu werden in Moodle wöchentlich Screencasts veröffentlicht.
Im Rahmen des Selbststudiums werden Foliensätze, Literatur sowie Übungsaufgaben zur Verfügung gestellt. Diese sind parallel zur Vorlesung in selbstständiger Einzel- bzw. Gruppenarbeit von den Studierenden zu erarbeiten.
Zusätzlich bieten wir virtuelle Sprechstunden an, in der die Studierenden organisatorische bzw. inhaltiche Fragen stellen können. Weitere virtuelle Sprechstunden werden nach Bedarf angeboten und während des Semesters mit den Studierenden abgestimmt. Die erste viruelle Sprechstunde findet am 29. April 2020 zwischen 16:00 bis 17:00 Uhr statt.
Zugang zum Moodle-Kurs: Für das Sommersemester 2020 wurde seitens des Rektorats ein neues Verfahren zur Einschreibung in Moodle-Kurse mit urheberrechtlich geschütztem Material beschlossen. Bitte melden Sie sich daher zunächst über das LSF (Link siehe oben) zur Veranstaltung an. Im Anschluss wird aus dem LSF innerhalb von drei Werktagen eine E-Mail an Ihre Uni-Mailadresse mit dem Moodle-Einschreibeschlüssel versendet.