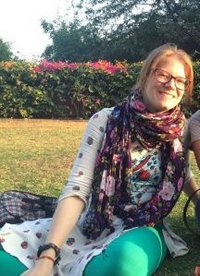 You work for an IT consulting company that focuses a lot on project work. Do you travel a lot here or how does the project work work in your company?
"At Capgemini I already gained practical experience as a working student since 2014, whichis why I wrote my Master thesis in cooperation with the company. I have been permanently employed since March 2017. Like most of my colleagues, I am also deployed regionally and therefore have short travel times to the customer's branch office. Of course there are exceptions in which colleagues with certain skills have to be deployed in nationwide projects, since no other colleague with these skills is available regionally at the time of the appointment. However, the trend is to work more and more remotely, either in our office or from home."
The area you work for is called "Applications Consultant Insights and Data Application Services". What can one imagine by that and what does your typical daily routine look like?
"The area or 'Practice' in which I work is called "Insights & Data". We deal with projects that deal with Business Intelligence, Data Warehousing, Analytics and Big Data. I am currently working as a front end tester. My typical work in the morning is first of all to check whether "bugs" or tickets have been assigned to me. These have to be analyzed by trying to reproduce them and in a second step trying to find out why they occurred. Then, depending on the results of the analysis, I talk to the appropriate front or back end developers about the solution. After the solution has been implemented, I test again; in this case, if the original problem is fixed by the "bugfix".
In addition to front end testing, I support the backend testing team in stressful project phases. In addition, I assign tasks to the remaining front-end test members, some of whom are based in India. In the afternoon we have our Daily Meeting, where we talk about the current activities and difficulties encountered within the team for about 15 minutes. After work, some of our colleagues like to have dinner together, cook together, or end the evening with a beer. Before I was assigned to this project, I worked as an R developer and as ETL developers in two other projects."
After completing your Bachelor's degree, you also completed a Master's degree in Business Information Systems. From today's perspective, was this a sensible step for you?
"From my point of view, this step made more than sense. Since I had studied Business Administration in my Bachelor's degree, I lacked a certain amount of technical background in this area. At that time I consciously decided to take a Master's in Business Information Systems to fill this gap, as I had already discovered during my Bachelor's studies in Business Administration with a focus on Controlling that I was more interested in the systems used in these departments than in the actual activities within this department. If I hadn't done my master's degree in Business Information Systems, the road would have been much rockier."
During your semester abroad, you were in India. What did you take with you from this time for yourself and your current job?
"An infinite amount on the subject of 'intercultural differences'. After my semester abroad in India at our partner university in Kochi, Kerala, I worked for one year as an intern at SAP Labs India Pvt. Ltd. in Bangalore, Karnataka in India. I spent a total of one and a half years there, from September 2014 to April 2016. I still benefit from it today - primarily when it comes to working with our offshore colleagues in India. Compared to our other colleagues, I can establish a connection to them much more quickly - often at a completely different level than my German colleagues. I also understand certain behaviors better than my German colleagues because I know the background to them. This makes communication and cooperation much easier for me.
In general, I have become more open to foreign cultures and try to integrate our international colleagues as well as possible into the department. Since then, I have also tried to sensitize our German colleagues to such intercultural topics. There is no 'right' or 'wrong' between cultures - it's about understanding, tolerance and willingness to compromise. An Indian colleague and good friend of mine and I have founded a so-called community in which we hold monthly calls on various topics for our department colleagues and let them report on their personal experiences - all in a lively discussion. In addition, we organize events or take part in events such as the recent China Festival in Düsseldorf, or we cook Indian together."