With our publications we cover the most diverse research areas that arise in the field of man, task and technology. In addition to traditional Business Information Systems topics such as knowledge management and business process management, you will also find articles on current topics such as blended learning, cloud computing or smart grids. Use this overview to get an impression of the range and possibilities of research in Business Information Systems at the University of Duisburg-Essen.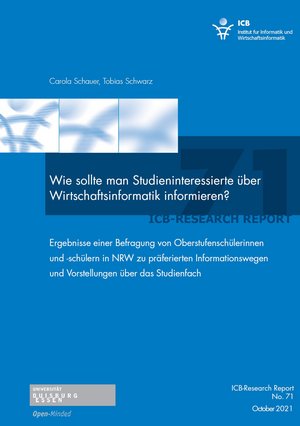 Type of Publication: Research report
Wie sollte man Studieninteressierte über Wirtschaftsinformatik informieren? - Ergebnisse einer Befragung von Oberstufenschülerinnen und -schülern in NRW zu präferierten Informationswegen und Vorstellungen über das Studienfach
Author(s):

Publisher:

Universität Duisburg-Essen

Number of Report or Contribution:

71

Location(s):

Essen

Publication Date:

2021

Keywords:

Studieninteressierte, Wirtschaftsinformatik

Digital Object Identifier (DOI):

Fulltext:

Link to complete version:

https://duepublico2.uni-due.de/servlets/MCRFileNodeServlet/duepublico_derivate_00074647/ICB_Report_71.pdf

Citation:
Abstract
Studierende für einen Studiengang zu gewinnen, die die richtigen Erwartungen an und ausgeprägtes Interesse für das jeweilige Studienfach haben, stellt eine besondere Schwierigkeit dar, wenn das Fach nicht Teil des allgemeinbildenden schulischen Lehrplans ist. In Nordrhein‐Westfalen  (NRW) gilt dies nicht zuletzt  für das Studienfach Wirtschaftsinformatik. An der Universität Duisburg‐Essen wurde daher ein Schulbotschafter‐Programm für Wirtschaftsinformatik etabliert, welches auf die gezielte Information der studieninteressierten Oberstufenschülerinnen und ‐schüler in NRW gerichtet ist. Der vorliegende Forschungsbericht veröffentlicht die Vorgehensweise, Ergebnisse und Limitationen einer in diesem Kontext durchgeführten online‐Befragung von 313 Oberstufenschülerinnen und ‐schülern. Die Ergebnisse zeigen ein differenziertes Bild präferierter Informationsangebote und ‐veranstaltungen. Die ausgewerteten Antworten zum Studienfach Wirtschaftsinformatik machen darüber hinaus deutlich, dass fehlende bzw. fehlerhafte Vorstellungen über das Fach weit verbreitet sind und – für eine effektive Unterstützung bei der Studienwahl – die Ansprüche und Möglichkeiten eines Wirtschaftsinformatikstudiums gezielt zu vermitteln sind.