With our publications we cover the most diverse research areas that arise in the field of man, task and technology. In addition to traditional Business Information Systems topics such as knowledge management and business process management, you will also find articles on current topics such as blended learning, cloud computing or smart grids. Use this overview to get an impression of the range and possibilities of research in Business Information Systems at the University of Duisburg-Essen.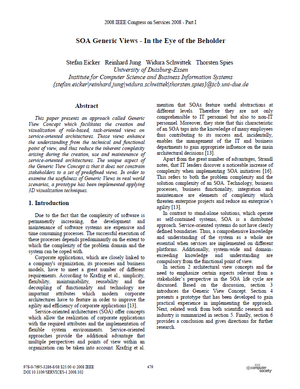 Type of Publication: Article in Collected Edition
SOA Generic Views - In the Eye of the Beholder
Author(s):

Eicker, Stefan; Jung, Reinhard; Schwittek, Widura; Spies, Thorsten

Title of Anthology:

Proceedings of the 2008 IEEE International Conference on Services Computing (SCC 2008), IEEE Congress on Services 2008, WebX 2008 Workshop

pages:

479-486

Publisher:

IEEE

Location(s):

Hawaii, USA

Publication Date:

2008

Language:

Englisch

Keywords:

SOA, Generic Views, Architecture, Views, Visualization, Complexity, SOA governance

Digital Object Identifier (DOI):

Citation:
Abstract
This paper presents an approach called Generic View Concept which facilitates the creation and visualization of role-based, task-oriented views on service-oriented architectures. Those views enhance the understanding from the technical and functional point of view, and thus reduce the inherent complexity arising during the creation, use and maintenance of service-oriented architectures. The unique aspect of the Generic View Concept is that it does not constrain stakeholders to a set of predefined views. In order to examine the usefulness of Generic Views in real world scenarios, a prototype has been implemented applying 3D visualization techniques.