With our publications we cover the most diverse research areas that arise in the field of man, task and technology. In addition to traditional Business Information Systems topics such as knowledge management and business process management, you will also find articles on current topics such as blended learning, cloud computing or smart grids. Use this overview to get an impression of the range and possibilities of research in Business Information Systems at the University of Duisburg-Essen.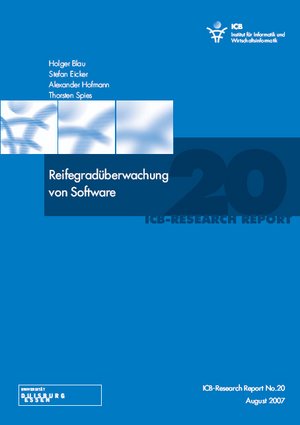 Type of Publication: Research report
Reifegradüberwachung von Software
Author(s):

Blau, Holger; Eicker, Stefan; Hofmann, Alexander; Spies, Thorsten

Number of Report or Contribution:

ICB Research Report No 20

Publication Date:

2007

ISSN:

1860-2770

Language:

deutsch

Keywords:

Reifegrad, Metriken, Software-Qualitätsmanagement, Software-Qualität

Fulltext:

Citation:
Abstract
Durch die wachsende Bedeutung von Softwaresystemen (Stichwort: "Softwareintensive Systeme") beeinflusst die Softwareindustrie zunehmend auch andere Industriezweige. Aber obwohl sie sich damit zu einer "Leitindustrie" entwickelt hat, befindet sich ihre Entwicklung - zumindest im Vergleich zu anderen Industrien - noch in einem relativ unreifen Stadium. Angesichts der immer härteren Rahmenbedingungen, die sich insbesondere in einem hohen Termindruck, Budgetrestriktionen, einem dynamischen Umfeld und in der steigenden Komplexität von Software ausdrücken, ist eine Professionalisierung der Entwicklungsmethodik aber zwingend erforderlich, auch, um eine Verschlechterung der Produktqualität zu vermeiden. Das Voranschreiten der Industrialisierung der Softwareentwicklung bildet somit eine zentrale Herausforderung für die Softwarebranche. Im vorliegenden Beitrag wird zur Verbesserung der Möglichkeiten eines kontinuierlichen Monitorings von Softwareprojekten eine Methode vorgestellt, die eine Aussage über die "Reife" des aktuellen Entwicklungsstands einer Software ermöglicht. Das Ziel der Methode besteht darin, die Eigenschaften der Produktqualität transparent zu machen, um auch unter den sich verschärfenden Rahmenbedingungen qualitativ hochwertige Software entwickeln zu können. Den Bewertungsgegenstand der Methode bildet demzufolge nicht – wie bei vielen Ansätzen - der zugrunde liegende Entwicklungsprozess, sondern das zu entwickelnde Produkt, die Software. Als Vergleichsmethodik wird in dem Beitrag die "Reifegrad-Absicherung für Neuteile" vom Verband der Automobilindustrie (VDA) herangezogen, da dieses Verfahren das konsolidierte Ergebnis in einem Industriezweig darstellt, der im Zuge der Industrialisierung eine kontinuierliche Verbesserung von Prozessen und Methoden erfahren hat.