With our publications we cover the most diverse research areas that arise in the field of man, task and technology. In addition to traditional Business Information Systems topics such as knowledge management and business process management, you will also find articles on current topics such as blended learning, cloud computing or smart grids. Use this overview to get an impression of the range and possibilities of research in Business Information Systems at the University of Duisburg-Essen.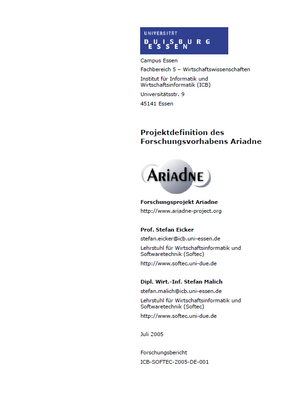 Type of Publication: Research report
Projektdefinition des Forschungsvorhabens Ariadne
Author(s):

Eicker, Stefan; Malich, Stefan

Location(s):

Essen

Publication Date:

2005

Fulltext:

Citation:
Abstract
Im Kontext der fortschreitenden Globalisierung müssen nicht nur Großunternehmen, sondern auch kleine und mittlere Unternehmen (KMU) ihre Geschäftsstrategien auf internationale Märkte ausrichten. Wesentliches Charakteristikum dieser Märkte ist ihre ausgeprägte Dynamik, die von den Unternehmen eine entsprechend hohe Anpassungsfähigkeit erfordert. Diese setzt auf der operationalen Ebene flexible IT-Architekturen und -Anwendungen voraus, in denen Prozesse, Produkte und Dienstleistungen dynamisch auf die jeweiligen Anforderungen anpassbar abgebildet sind. Gegenstand des Forschungsprojekts ist deshalb die Entwicklung eines generischen Vorgehensmodells zum Aufbau einer flexiblen unternehmensweiten IT-Architektur im Rahmen von Migrations-, Integrations- und Refactoring-Projekten. ?Generisch? heißt dabei zum einen, dass das Modell einen Rahmenprozess mit entsprechenden Phasen und Aktivitäten definiert, der jeweils im Hinblick auf die konkreten Anforderungen eines Unternehmens sowie im Hinblick auf die durchzuführenden Teilprojekte ?instanziiert? wird. Zum anderen soll das Modell einen Fundus von Lösungsansätzen für die Durchführung der Teilprozesse und Aktivitäten in Gestalt von Leitfäden, Patterns und Best Practices bieten, aus denen jeweils die im konkreten Fall zu nutzenden Ansätze über entsprechende Bewertungskriterien ausgewählt werden. Das Vorgehensmodell soll in den konkreten Projekten der Ariadne-Community validiert und sukzessiv verfeinert werden.