With our publications we cover the most diverse research areas that arise in the field of man, task and technology. In addition to traditional Business Information Systems topics such as knowledge management and business process management, you will also find articles on current topics such as blended learning, cloud computing or smart grids. Use this overview to get an impression of the range and possibilities of research in Business Information Systems at the University of Duisburg-Essen.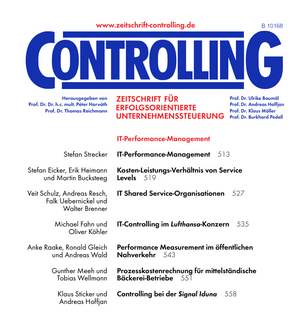 Type of Publication: Article in Journal
Kosten-Leistungs-Verhältnis von Service Levels
Author(s):

Eicker, Stefan; Heimann, Erik; Bucksteeg, Martin

Title of Journal:

Controlling

Volume (Publication Date):

20 (2008)

Number of Issue:

10

pages:

519-525

Citation:
Abstract
Der Artikel fasst die Ergebnisse einer von der Universität Duisburg-Essen in Zusammenarbeit mit der Materna GmbH durchgeführten Untersuchung zusammen. Analysiert wurde, welche Auswirkungen eine Erhöhung des Service Level einer Service Level-Kennzahl jeweils auf die verschiedenen Kostenarten besitzt. Hierzu wurden zunächst die relevanten Kostenarten ermittelt sowie eine spezielle grafische Notation für die Ergebnisdarstellung entworfen. Die Untersuchung zeigt, wie das IT-Controlling wertvolle Informationen für die Gestaltung von Service-Verträgen ermitteln kann.