With our publications we cover the most diverse research areas that arise in the field of man, task and technology. In addition to traditional Business Information Systems topics such as knowledge management and business process management, you will also find articles on current topics such as blended learning, cloud computing or smart grids. Use this overview to get an impression of the range and possibilities of research in Business Information Systems at the University of Duisburg-Essen.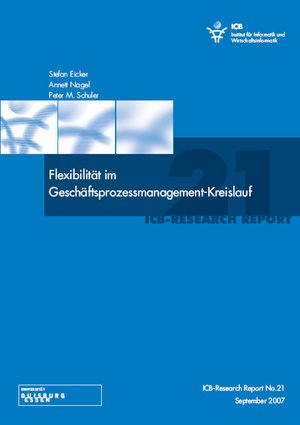 Type of Publication: Research report
Flexibilität im Geschäftsprozessmanagement-Kreislauf
Author(s):

Eicker, Stefan; Nagel, Annett; Schuler, Peter M.

Number of Report or Contribution:

ICB Research Report No 21

Location(s):

Essen

Publication Date:

2007

ISSN:

1860-2770

Language:

deutsch

Keywords:

Flexibilität, Geschäftsprozessmanagement

Fulltext:

Citation:
Abstract
Die jüngeren Entwicklungen der Informations- und Kommunikationstechnik haben zu einer mehr und mehr globalisierten Welt geführt, in der geographische Beschränkungen entfallen und sich Unternehmen ständig neuen Herausforderungen gegenübergestellt sehen. Ein solch dynamisches Umfeld erfordert, dass sich Unternehmen an geänderte Bedingungen anpassen können – d. h. sie müssen flexibel sein. Geschäftsprozessmanagement (GPM) ermöglicht eine zielgerichtete Steuerung der Geschäftsprozesse und damit des Unternehmens. Unter der Zielsetzung des Erfolgsfaktors "Flexibilität" untersucht der vorliegende Arbeitsbericht die Gestaltungsmöglichkeiten innerhalb des GPM.