With our publications we cover the most diverse research areas that arise in the field of man, task and technology. In addition to traditional Business Information Systems topics such as knowledge management and business process management, you will also find articles on current topics such as blended learning, cloud computing or smart grids. Use this overview to get an impression of the range and possibilities of research in Business Information Systems at the University of Duisburg-Essen.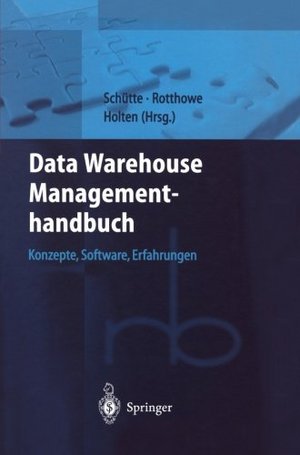 Type of Publication: Article in Collected Edition
Ein Überblick über die Umsetzung des Data Warehouse-Konzepts aus technischer Sicht
Author(s):

Editor:

Holten, R.; Schütte, R.; Rotthowe, T.

Title of Anthology:

Data Warehouse Managementhandbuch. Konzepte, Software, Erfahrungen.

pages:

65-79

Publisher:

Springer-Verlag

Location(s):

Berlin

Publication Date:

2001

Digital Object Identifier (DOI):

Citation:
Abstract
Die Realisierung eines Management-Informationssysterns durch ein Data Warehouse erfordert grundsätzlich — wie auch bei anderen cornputergestutzten betrieblichen Information ssystemen — einen Systemplanungs- und -entwicklungsprozess. 1m Rahmen des Prozesses sind die Komponenten für die verschiedenen Ebenen der Architektur für Management-Inforrnationssysterne zu planen, zu realisieren, zu testen und schließlich einzuführen.