With our publications we cover the most diverse research areas that arise in the field of man, task and technology. In addition to traditional Business Information Systems topics such as knowledge management and business process management, you will also find articles on current topics such as blended learning, cloud computing or smart grids. Use this overview to get an impression of the range and possibilities of research in Business Information Systems at the University of Duisburg-Essen.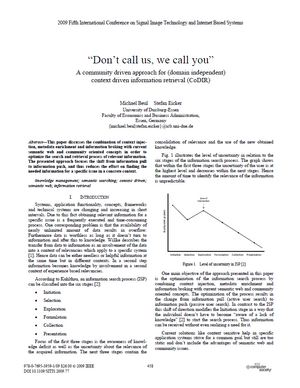 Type of Publication: Article in Collected Edition
"Don't Call Us, We Call You" - A Community Driven Approach for (Domain Independent) Context Driven Information Retrieval (CoDIR)
Author(s):

Editor:

Yetongnon, Kokou; Chbeir, Richard; Dipanda, Albert

Title of Anthology:

The Fifth International Conference on Signal Image Technology & Internet Based Systems - SITIS 2009

pages:

458-464

Publisher:

IEEE Computer Society

Location(s):

Marrakesh, Morocco

Publication Date:

2010

ISBN:

978-1-4244-5740-3

Language:

Englisch

Keywords:

knowledge management; semantic searching; context driven; semantic web; information retrieval

Digital Object Identifier (DOI):

Citation:
Abstract
This paper discusses the combination of context injection, metadata enrichment and information broking with current semantic web and community oriented concepts in order to optimize the search and retrieval process of relevant information. The presented approach focuses the shift from information pull to information push, and thus reduces the effort on finding the needed information for a specific issue in a concrete context.