With our publications we cover the most diverse research areas that arise in the field of man, task and technology. In addition to traditional Business Information Systems topics such as knowledge management and business process management, you will also find articles on current topics such as blended learning, cloud computing or smart grids. Use this overview to get an impression of the range and possibilities of research in Business Information Systems at the University of Duisburg-Essen.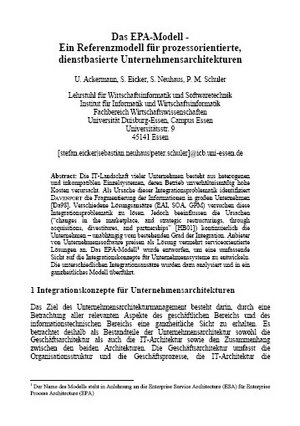 Type of Publication: Article in Collected Edition
Das EPA-Modell - Ein Referenzmodell für prozessorientierte, dienstbasierte Unternehmensarchitekturen
Author(s):

Ackermann, Ulf; Eicker, Stefan; Neuhaus, Sebastian; Schuler, Peter M.

Editor:

Lehner, F.; Nösekabel, H.; Kleinschmidt, P.

Title of Anthology:

Multikonferenz Wirtschaftsinformatik 2006, Tagungsband 2

pages:

183-197

Publisher:

GITO-Verlag

Location(s):

Berlin

Publication Date:

2006

Language:

deutsch

Keywords:

Integration, EAI, SOA, GPM, EPA-Modell

Fulltext:

Das EPA-Modell - Ein Referenzmodell für prozessorientierte, dienstbasierte Unternehmensarchitekturen (607 KB)

Citation:
Abstract
Die IT-Landschaft vieler Unternehmen besteht aus heterogenen und inkompatiblen Einzelsystemen, deren Betrieb unverhältnismäßig hohe Kosten verursacht. Als Ursache dieser Integrationsproblematik identifiziert DAVENPORT die Fragmentierung der Informationen in großen Unternehmen. Verschiedene Lösungsansätze (EAI, SOA, GPM) versuchen diese Integrationsproblematik zu lösen. Jedoch beeinflussen die Ursachen ("changes in the marketplace, and strategic restructurings, through acquisitions, divestitures, and partnerships") kontinuierlich die Unternehmen - unabhängig vom bestehenden Grad der Integration. Anbieter von Unternehmenssoftware preisen als Lösung vermehrt serviceorientierte Lösungen an. Das EPA-Modell wurde entworfen, um eine umfassende Sicht auf die Integrationskonzepte für Unternehmenssysteme zu entwickeln. Die unterschiedlichen Integrationsansätze wurden dazu analysiert und in ein ganzheitliches Modell überführt. Der Name des Modells steht in Anlehnung an die Enterprise Service Architecture (ESA) für Enterprise Process Architecture (EPA).