With our publications we cover the most diverse research areas that arise in the field of man, task and technology. In addition to traditional Business Information Systems topics such as knowledge management and business process management, you will also find articles on current topics such as blended learning, cloud computing or smart grids. Use this overview to get an impression of the range and possibilities of research in Business Information Systems at the University of Duisburg-Essen.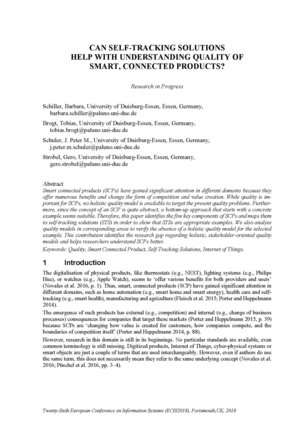 Type of Publication: Article in Collected Edition
Can Self-Tracking Solutions Help with Understanding Quality of Smart, Connected Products?
Author(s):

Editor:

Ais

Title of Anthology:

Proceedings of the 26th European Conference on Information Systems (ECIS)

Location(s):

Portsmouth

Publication Date:

2018

Keywords:

Quality, Smart Connected Product, Self-Tracking, Internet of Things

Citation:
Abstract
Smart connected products (SCPs) have gained significant attention in different domains because they offer numerous benefits and change the way of competition and value creation. While quality is im-portant for SCPs, no holistic quality model is available to target the present quality problems. Further-more, since the concept of an SCP is quite abstract, a bottom-up approach that starts with a concrete example seems suitable. Therefore, this paper identifies the five key components of SCPs and maps them to self-tracking solutions (STS) in order to show that STSs are suitable substitutes. We also analyse quality models in corresponding areas to verify the absence of a holistic quality model for the selected example. This contribution identifies the research gap regarding holistic, stakeholder-oriented quality models and helps researchers understand SCPs better.