With our publications we cover the most diverse research areas that arise in the field of man, task and technology. In addition to traditional Business Information Systems topics such as knowledge management and business process management, you will also find articles on current topics such as blended learning, cloud computing or smart grids. Use this overview to get an impression of the range and possibilities of research in Business Information Systems at the University of Duisburg-Essen.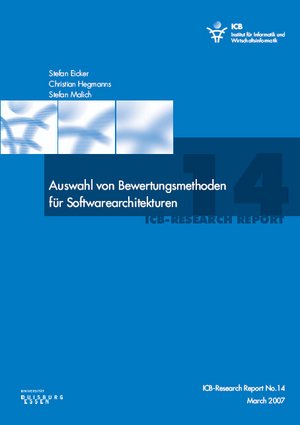 Type of Publication: Research report
Auswahl von Bewertungsmethoden für Softwarearchitekturen
Author(s):

Eicker, Stefan; Hegmanns, Chrisitan; Malich, Stefan

Number of Report or Contribution:

ICB Research Report No 14

Location(s):

Essen

Publication Date:

2007

ISSN:

1860-2770

Language:

deutsch

Fulltext:

Citation:
Abstract
Die Softwarearchitektur eines Anwendungssystems besitzt einen erheblichen Einfluss auf die Qualitätsmerkmale des Gesamtsystems. Sie stellt somit einen kritischen Erfolgsfaktor sowohl für die Entwicklungs- als auch für die Nutzungsphase des Systems dar. In einem Softwareentwicklungsprojekt muss deahlb eine dedizierte und dataillierte Betrachtung der softwarearchitektur erfolgen. Zur Bewertung einer Softwarearchitektur im Kontext eines konkreten Projektes ist eine Vielzahl von Bewertungsmethoden mit unterschiedlichen Eigenschaften entwickelt worden. Der vorliegende Beitrag beschäftigt sich mit der Auswahl einer geeigneten Methode für ein Projekt; er stellt dazu eine Taxonomie und darauf aufbauend einen strukturierten Auswahlprozess vor.