With our publications we cover the most diverse research areas that arise in the field of man, task and technology. In addition to traditional Business Information Systems topics such as knowledge management and business process management, you will also find articles on current topics such as blended learning, cloud computing or smart grids. Use this overview to get an impression of the range and possibilities of research in Business Information Systems at the University of Duisburg-Essen.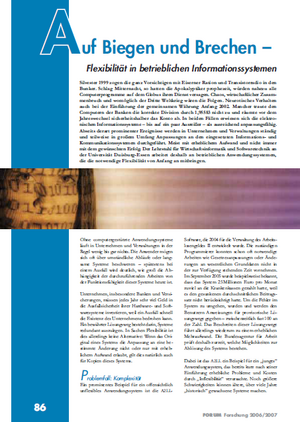 Type of Publication: Article in Journal
Auf Biegen und Brechen – Flexibilität in betrieblichen Informationssystemen
Author(s):

Eicker, Stefan; Beul, Michael; Malich, Stefan; Schuler, Peter M.; Spies, Thorsten

Title of Journal:

FORUM Forschung 2006/2007 Informatik

Publication Date:

2006

pages:

86-91

Language:

deutsch

Keywords:

Flexibilität, betriebliche Informationssysteme, Prozesse

Fulltext:

Citation:
Abstract
Silvester 1999 zogen die ganz Vorsichtigen mit Eiserner Ration und Transistorradio in den Bunker. Schlag Mitternacht, so hatten die Apokalyptiker prophezeit, würden nahezu alle Computerprogramme auf dem Globus ihren Dienst versagen. Chaos, wirtschaftlicher Zusammenbruch und womöglich der Dritte Weltkrieg wären die Folgen. Neurotisches Verhalten auch bei der Einführung der gemeinsamen Währung Anfang 2002. Mancher traute den Computern der Banken die korrekte Division durch 1,95583 nicht zu und räumte vor dem Jahreswechsel sicherheitshalber das Konto ab. In beiden Fällen erwiesen sich die elektronischen Informationssysteme – bis auf ein paar Ausreißer – als ausreichend anpassungsfähig. Abseits derart prominenter Ereignisse werden in Unternehmen und Verwaltungen ständig und teilweise in großem Umfang Anpassungen an den eingesetzten Informations- und Kommunikationssystemen durchgeführt. Meist mit erheblichem Aufwand und nicht immer mit dem gewünschten Erfolg. Der Lehrstuhl für Wirtschaftsinformatik und Softwaretechnik an der Universität Duisburg-Essen arbeitet deshalb an betrieblichen Anwendungssystemen, die die notwendige Flexibilität von Anfang an mitbringen.