With our publications we cover the most diverse research areas that arise in the field of man, task and technology. In addition to traditional Business Information Systems topics such as knowledge management and business process management, you will also find articles on current topics such as blended learning, cloud computing or smart grids. Use this overview to get an impression of the range and possibilities of research in Business Information Systems at the University of Duisburg-Essen.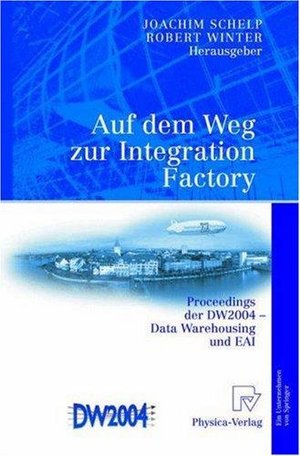 Type of Publication: Article in Collected Edition
Analyse eines SAP BW-Einsatzes im Controlling am Beispiel der T-Com
Author(s):

Eicker, Stefan; Lambertz, Thorsten; Lelke, Frank

Editor:

Schelp, J.; Winter, R.

Title of Anthology:

Auf dem Weg zur Integration Factory - Proceedings der DW2004 - Data Warehousing und EAI

Publisher:

Physica-Verlag

Location(s):

Heidelberg

Publication Date:

2004

Language:

deutsch

Digital Object Identifier (DOI):

Citation:
Abstract
Die T-Com zählt mit ca. 58 Mio. Anschlüssen zu den größten Festnetzanbietern Europas. Im Konzernverbund der Deutschen Telekom AG bildet die T-Com eine von insgesamt vier Konzerndivisionen (T-Mobile, T-Online, T-Systems, T-Com). Vor Einführung des unternehmensweiten Data Warehousing existierten im Konzern ca. 30 verschiedene dispositive Informationssysteme, die Daten aus internen Vorsystemen und externen Quellen verarbeiteten. Durch Einführung eines oder mehrerer Data Warehouses sollten integrierte und konsistente Datenbasen geschaffen werden, die für die verschiedenen dispositiven Anwendungen genutzt werden konnten (Single-Sourcing-Prinzip). Die Anzahl der Schnittstellen zu den operativen Vorsystemen sollte gesenkt werden – und mit ihnen auch der Administrationsaufwand. Durch sukzessiven Aufbau einer Data-Warehouse-Landschaft passte die T-Com ihre Systemlandschaft an die genannten Anforderungen sowie auch an veränderte bzw. neue betriebswirtschaftliche Anforderungen an. Im Laufe der Zeit entstanden vier unabhängige Data Warehouses (DWHs) für unterschiedliche Anwendungsbereiche. Für die sukzessiv geschaffene Landschaft mit ihren vier Datenbasen stellt sich die Frage, inwieweit die gesteckten Ziele erreicht wurden und ob über die ursprünglich
geplanten und realisierten Anwendungsfelder hinaus weitere, latente Anwendungspotenziale aufgedeckt und erschlossen werden können. Im Rahmen einer Diplomarbeit wurde dieser Frage mit dem Fokus auf einem bei der T-Com eingesetzten SAP BW nachgegangen.