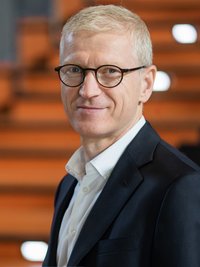 Chairholder
Prof. Dr.
Reinhard
Schütte
Room:

R09 R03 H35

Phone:

Email:

Consultation Hour:

Thursday 11:45 – 12:45 and with appointment (please send an email if you want to visit during the consultation hour). During the lecture free time the consultation hour only happens after appointments. Please sign up early via email.
Bio:
My previous professional career is characterized by the duality of research and practical application. For this the problems of the Business Informatics field are applied from a domain specific perspective, with a focus on retail organisations. As a result of the theoretical foundations and the practical experiences it is important for me, that people think interdisciplinary.
During my studies at the University of Münster I focused on the field of business administration, administration of the industry and the financial theory. As an assistant of Business Informatics in Münster I deepened my orientation towards the Business Informatics which started during my studies of the administration of the industry sector. This happened through the focus on the research areas of the information modelling and research theory. This lead to my dissertation about the principles of duly reference modelling.
After my doctorate I started researching and teaching at the institute of Prof. Dr. Zelewski at the University of Essen. During this time I developed my liberal view on different research approaches, whereby I focus on a construction oriented Business Informatics perspective. The design of the reality of organisations is a crucial goal of the Business Informatics, even though that 'design' should always be based on justified explanation.
The emphasis of my work lies on integrated information systems, that means on large systems and their management, which can range from the development of standardized software to the implementation of those. My research interests match those of the chair. A collection of those would be:
Enterprise Systems
IS-Architectures
Digitalization of organisations
Information modelling
Scientific theory problems of the Business Informatics field
In the teaching field I cover those topics:
Enterprise Systems
Enterprise Transformation
Impacts of IT-Systems
Retail Information Systems
Management of Large Enterprise Systems
Curriculum Vitae:
Since October 2015: Takeover of the Chair of Business Informatics and integrated Information Systems at the University of Duisburg-Essen
Visiting professor for Information Management and Retail Information Systems at the Zeppelin University Friedrichshafen
Habilitation at the University of Münster
Responsibility in retail organisations (Dohle Handelsgruppe Holding GmbH & Co. KG; Siegburg; EDEKA AG, Hamburg)
Representation of the Chair of Indutry Management at the University of Koblenz-Landau
Assistant Professor at the University Essen at the Institute for Production and Industrial Information Management from Prof. Dr. Stephan Zelweski
Assistant Professor at the University of Münster at the Institute for Business Informatic from Prof. Dr. Dr. h.c. h.c. Jörg Becker
Doctorate for Dr. rer. pol. in Business Informatics at the University of Münster
Research Assistant at the University of Münster at the Institute of Business Informatics from Prof. Dr. Dr. h.c. h.c. Jörg Becker
Studies of Business Administration at the University of Münster